Churchill VII Gun tank (without trailer) £5,995.00 + £195.00 post and packaging

Churchill Crocodile with flamethrower £6,995.00 + £195.00 post and packaging

Above prices are for a fully assembled and painted model (excluding motion pack)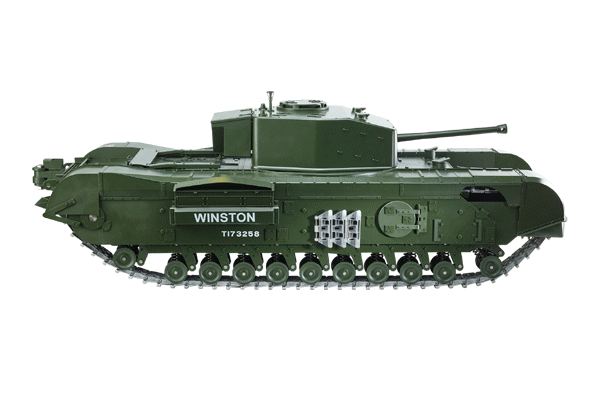 Churchill Mk VII tank.....

The early war years exposed the inferiority of British tanks compared to their German counterparts. Of course, much of the success of the German war machine was due to the adoption of the new "Blitzkrieg" tactics whereby fast moving massed armour was used in combination with air attack. True to the old adage that "Generals always plan to fight the last war" the Allies distributed their tanks in penny packets accompanying slow moving infantry.

The Churchill was introduced to counter German tank superiority. However, shortage of materials, suitable engines and larger calibre anti-tank guns rendered the early marks a shadow of what the vehicle was destined to become. Even the designation of "Infantry Tank" spoke volumes of the British military's failure to grasp the significance of mobility.

The first Churchill's were equipped with relatively puny 2-pdr guns, but soon received 6-pdr guns in a new turret under the designation Churchill III. The 6-pdr was in fact a very good anti-tank gun with a muzzle velocity in excess of the later 75mm. Tiger 131 was in fact disabled in Tunisia by a Churchill carrying the 6-pdr. The lack of an effective high explosive round for the 6-pdr later saw the near universal adoption of the 75mm on later marks. With a meagre 350-hp engine the Churchill was slow at around 15mph maximum road speed.

An entirely new version of the Churchill with 150mm of frontal armour was designed by Vauxhall Motors and designated the Mk VII. The tank carried the 75mm gun. The extra weight of the Mk VII reduced speed to around 12 mph. Although slow the Churchill was a good cross country performer. It proved to be an exceptional tank when operating in mountainous areas.

Reliable, with heavy armour and a good gun, the Churchill VII was one of the most important British tanks of WWII with 5,640 built. Over 800 Crocodiles saw service in WWII and Korea.

Churchill Crocodile......

The Churchill VII was used as the basis for the development of the ultimate flamethrower tank. This was named the "Crocodile".
All production Mk VII's had a rectangular hatch in the hull floor for the mounting of the flame equipment so that they could be readily converted from gun tanks to Crocodiles.

Crocodiles were used in North Western Europe and in Italy. A Crocodile is easily identified as the fuel for the flamethrower was contained in an armoured trailer towed behind the tank. In Crocodile form the Churchill retained its 75mm gun. The flame projector replaced the hull machine gun.


The 1/6th Scale Model.......

We are in the process of preparing the build of a batch of 50 models for delivery October 2019.

The model is available in two forms. As a stand alone Mk VII 75mm gun tank and as a fully fledged Churchill Crocodile with trailer and working flamethrower!

The model is constructed in aluminium and brass and is supplied fully assembled and painted, as shown in the accompanying photographs. Although well detailed the model offers the opportunity for the enthusiast to add further detail and weather the paintwork. A motion pack is available as an optional extra and we do not supply the RC transmitter/receiver.

The gun tank has an overall length of circa 1,240mm (49") and weighs in at around 120kgs.
The Churchill Crocodile has an approximate overall length, including the trailer, of 2,083mm (82"). The crocodile version includes, as standard, a fully functioning flame-thrower using diesel fuel which projects a flame approximately 6 feet. The flamethrower is mounted in the front of the hull which leaves the trailer space available for additional batteries to provide excellent run time.

The model comes complete with turret turn, gun recoil and elevation. All wheels are fully sprung like on the full size tank.

The motion pack includes 2 x Parvalux main drive motors, auxiliary motors for turret turn, recoil and elevation, 4QD speed controllers

As testament to our confidence in the models we supply we offer a full 12 months warranty on every product.

Request your free 8 page colour brochure today. Available October. E-mail: info@silvercrestmodels.co.uk or telephone 01788 892 030.


Summary Specification



Churchill Crocodile

1/6th scale

Cast track links

Gun Recoil

Motion pack option

Flame thrower option

Coil spring suspension

Length 2008mm

Width 575mm


Aluminium and brass construction

Fully detailed

Gun Elevation/depression

Trailer for additional battery

Opening hatches

Delivered assembled and painted

Weight of gun tank approx 120kg

Height 457mm
Delivery and Payment Arrangements.....

The model represents excellent value for money with prices starting at just £5,995.00.

You can reserve your model for a deposit of just £995.00. You will be asked to pay 40% of the remaining balance in February 2019 as the build of your model progresses, with a further 40% due in June. The remaining balance will be requested in October in advance of delivery.

Save £195.00.We are pleased to offer free p&p for UK orders received by 31st October 2018.


Order Reservation/Checkout Section

To place an order reservation and pay the deposit of £995.00
now please use order section here.

You are welcome to make payment by credit/debit
card, bank transfer, or cheque.



Prices and Shipping Worldwide

We are happy to ship your model by air
direct to you wherever you live in the world.
Prices below include shipping.


| | |
| --- | --- |
| Option 1 | Churchill 75mm gun tank |
| Option 2 | Churchill Crocodile |
| Option 3 | Churchill 75mm gun tank with Motion Pack |
| Option 4 | Churchill Crocodile with Motion Pack |

EU
USA
ROW
Option 1
£6,190.00
£5,345.00
£5,446.00
Option 2
£7,220.00
£6,229.00
£6,329.00
Option 3
£7,220.00
£6,229.00
£6,329.00
Option 4
£8,250.00
£7,115.00
£7,263.00
UK and EU prices include VAT at 20%
USA and ROW customers may be subject to duty/tax on importation.